Brita Holli ze Suché



Race:

Hårlag:

Stockhaar

Opdrættet i:

Fødselsdato:

29.09.2012 (6 År, 5 Måneder)

Størrelse / Vægt:

59 cm / 30 kg

Chipnummer:

Synlig for registrerede medlemmer

Stambogsnummer:

CMKU/DS 87815/12

Opdrætter organisation:

Synlig for registrerede medlemmer

Resultat:

5JV1/P

Skue resultat:

VD

Uddannelsesbetegnelse:

Synlig for registrerede medlemmer

Sundhedsresultater:

Synlig for registrerede medlemmer

Ejer:

Synlig for registrerede medlemmer

Opdrætter:

Synlig for registrerede medlemmer
výběrová, bon.tř.: I. bon.kód:... flere

0

23851
WD-Health: Helbredsresultater for Brita Holli ze Suché

På working-dog tages sundhedsdataene meget seriøst.
Derfor er det nu muligt at vise de data, der er verificeret af working-dog.
Grønmærkerede resultater er kontrolleret og kan ikke ændres. Sort markerede poster er ukontrolleret.
1. Generation
2. Generation
3. Generation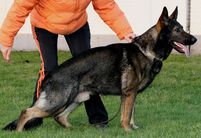 14.12.2005

SZ 2176279

Synlig for registrerede medlemmer

HD/ED normal
30.08.2000, SZ 2070827

Synlig for registrerede medlemmer

normal

05.12.2002, 2103703

Synlig for registrerede medlemmer

a-normal
29.06.2006

VDH/SZ 9146256

Synlig for registrerede medlemmer

HD normal
20.02.2002, SZ 2100028

Synlig for registrerede medlemmer

HD normal


Ingen dokumenter tilgængelige.
6.8.18 Age of tracks 12 hours. 5 subjects, about 1900 steps, 28 degrees C., help in putting on track.

29.7.18 Morning walk footprints at 10.45 am, leaving on track at 21.15, temperature 29 st.C., 2 objects, track about 700 steps. Error in first segment and first quarry. Then the track without errors. In the trail of the evening serving of granules. Yesterday, she would have mastered longer and older tracks

18.7.18 Length of about 1800 steps, 120 minutes of age, 6 objects, 13 quarries, 2 curves, granules sometimes in the trail (3,5,7), nothing in the tread, reward for objects, granules in the trail behind the object, ideal terrain, ideal weather.

9.7.18 After eight days in action again. Totally good track with one command for more, partially, irregularly fattened. Walking at 6 am in the morning, leaving on track at 7.30 pm Trail length approx. 2100 steps, 5 items.

24.6.18 stop without objects, about 1200 steps. after 30 minutes, a 4x foreign oblique crossing at the indicated spot (10 minutes before leaving). Always in the trail irregularly, sections without or 3,5,7.

22.6.18 heavier footprint of rain in the woods. After 6 minutes, the camera blew itself and spilled again at the very end of the track. So, in my opinion, the nicer and more accurate part of the track did not work. Record footprint about 600 steps, we went after 30 minutes, 2 objects. She alone solved the loss of a trail that led through leaves, needles, twigs, and other forest stands.

6.6.18 cut meadow, trace partially fattened, about 900 steps, 45 minutes, 4 objects, moat track, attempt to send remotely.

1.6.18 footprint, about 900 steps. 30 minutes, 4 items, granules only in the tread, unwanted crossing of the person with the dog, fault at the quarry.

22.5.18 foot in lower and higher grass, about 1000 steps, 3 objects, 70 minutes, occasionally in trace of granule

17.5.18 foot on the grass, granules only in the tread and behind the object, about 1300 steps, about 45 minutes, 4 objects, a fault on a sharp quarry.

27.4.18 heavy track on heavy aluminum terrain, after 30 minutes, about 1200 steps, 5 objects, quarries

22.4.18 heavy track on clay, reward only for objects + 2 pieces in tread, length approx. 1400 steps, 90 minutes, 6 items, heat, bitch solves the problem itself

17.2.18 shortened version of the track from the point of view of the handler when shooting the same track from the side.

12.2.18 sowing, track length approx. 2200 steps, trail age 150 minutes, 6 objects, quarries, sharp quarries, arcs

9.1.18 sunbathing padding under strong wind from part to leisure, 7 items, trail age approx. 100 minutes,

1.1.18 both new year and year round, I. part, grass, about 3000 steps, 10 objects, 120 minutes, several crosses in the marked section, quarries, more sharp. Footprint scanned by phone

11.10.17, field, wet earth, wind, about 1200 steps, 120 minutes, 5 objects, 6 quarries of which 4 sharp, curves

28.9.17 II. part - grass, about 2500 steps, age of tracks 180 minutes, 13 quarries of which 2 sharp, 6 objects, 6 crossing traces, curves

23.9.17 training track on the grass. 2600 steps, 15 quarries, 6 items, arcs, 180 minutes old. Part I

12.9.17 - footprint, 240 minutes old, 3 items, quarries and arches. The meadow a day before the track was fertilized.
2018

2018

21.3.19

21.3.19

19.3.19

19.3.19

17.3.19

17.3.19

2015

2015

15.3.19

15.3.19

Vrh 2012 ( Buggie,Baltazar,Brita)

Vrh 2012 ( Buggie,Baltazar,Brita)

12.3.19

12.3.19